Although the pandemic is global, it has unfolded differently in every country and city. The timing and nature of local responses have also varied widely, for social, cultural, and political reasons as much as epidemiological ones. These "snapshots" capture particular moments in the pandemic response at the local level in the cities we studied.
Busan
Figure 1: The official Facebook page of Busan Metropolitan City has been posting daily tolls of cumulative and new confirmed cases, recoveries, patients under treatment, and deaths. In the comment section of the update posted on April 21, 2020, a citizen asked to which patient the 131st confirmed patient of Busan was exposed. The city left a reply explaining that Patient No. 131 was in contact with No. 128 at work and got tested during self-quarantine.
Figure 2: The COVID-19 section of the official website of Busan Metropolitan City posts the detailed routes of confirmed patients from the onset of symptoms until testing. Each entry on their movements is erased after it has been 14 days since the last person to interact with the patient before their treatment was exposed to the virus. The list of patients shows the year of birth, gender, district ("foreigner" for non-citizens), nature of exposure, number of people exposed, treatment location, and test date for each patient. In the time frame captured above, most of the confirmed patients were those who had just returned to Korea from abroad. Two were foreigners. Patient No. 128, a male born in 1962 and based in Busan's Buk District, stands out for the number of people who were exposed to him.
Figure 3: Patient No. 128 started displaying body aches, fatigue, and dizziness on April 8. On that day and next, he was at the Central Hospital (where all patients and medical professionals were wearing masks, as the entry specifies), presumably for non-coronavirus reasons. In the next week or so, he went to work every weekday, voted at his neighborhood residents center, ate on the first floor of the Jobang Octopus restaurant on 666 Nakdongbuk-Ro, attended a church service after which he had black bean noodles, visited his mother, and went to two hospitals, moving around in his car. It was on the 18th that he finally drove to a coronavirus testing center and was transported to a hospital by ambulance later that day. Side note: There is a typo and possible Freudian slip in the last line, in which the word chat'aek (home) that appears after "test center" and before "ambulance" is written as chach'aek (self-reproach).
On February 21, 2020, the first two cases of COVID-19 were confirmed in Busan. By April 20, when the routes of Patient No. 128 were made public, there had been 129 confirmed cases, 28,733 negative tests, and 3 deaths in Busan, with 15 undergoing treatment at the time.
Updates on the official Facebook page of the city include daily tolls, live YouTube briefings from the Busan Metropolitan City Disaster and Safety Countermeasures Headquarters posted every Monday, Wednesday and Friday, and information about official orders, aid packages, etc. Available on the COVID-19 section of the official city website are the aforementioned routes of confirmed patients; a searchable list of all pharmacies that sell masks, with the address, map, number of items in stock, and restock date updated for each store; a searchable list of "clean zones," or businesses and hospitals that have been approved for disinfection, and the date of disinfection for each establishment; information about aid packages; safety manuals; mental health resources; and a link to a YouTube video-collage of citizens singing a cheery tune assuring that "everything will be okay," with a verse in the middle rapped in a heavy Busan accent.
Cairo
COVID-19 has brought further attention to long-observed problems of corruption in Egypt. Several sources have criticized the reporting of cases as incomplete, as well as accusing the government's provision of supplies as unequal. The outbreak is thought to have stemmed from a tourist in the oasis city of Luxor. Contract tracing led the government to institute a lockdown of hotels in the area, followed by a nightly curfew in Cairo. The existing poor access to healthcare has resulted in the city's poor being unable to afford care in hospitals. In addition, ambulance service is poor in the large informal areas of the city which further complicates access to medical treatment. There has also been criticism of the treatment of inmates in the nation's prisons at this time. An additional element to COVID-19 in Cairo is the delayed opening of a costly renovation of the Egyptian Museum. Overall, many expect the actual case count in Egypt and in Cairo to be much higher than the official reported figure.
As of May 7, 2020, according to Wikipedia, Cairo had:
Total Cases: 7,981
Total Deaths: 482
New Cases: 393
Delhi
As of May 11, 2020, Delhi had:
Confirmed Cases: 6,923
Active Cases: 4,781
Recovered: 2,069
Total Deaths: 79
Dubai
Dubai has seen major outbreaks among its low-income migrant workers, who are often living in cramped quarters, in which social distancing is nearly impossible. The populated commercial districts present a high risk of exposure, because many temporary laborers share housing there to cut down on costs. The majority of confirmed cases have been foreigners, which poses a problem because returning to their home countries is complicated, but the UAE government is reluctant to treat them. As of April 19, upwards of 40,000 Pakistanis have registered for repatriation and Abu Dhabi has threatened to revisit labor relations with India, if the government does not cooperate with efforts to repatriate workers living in the UAE. Dubai had allowed outbound flights for expatriates who had lost their jobs or been put on leave, but their countries of origin are often not prepared to welcome them.
As of May 9, 2020, UAE had:
Total Cases: 17,417
Recovered: 4,295
Deaths: 185
Johannesburg
Starting in late April, the number of cases in Western Cape province exceeded those of Gauteng province. Previously, Gauteng had been the epicenter of the outbreak in the country. Johannesburg, as the hotspot within the province, was thus the epicenter of the country. As of May 11, 2020, Gauteng province has 1,971 total confirmed cases and 22 total deaths. The city of Johannesburg has mobilized its existing infrastructure that typically handles HIV/AIDS and TB to help test and track COVID-19 cases. To slow the spread, Johannesburg closed all public facilities and focused its attention on supporting those that are most vulnerable.
Kaohsiung
The Kaohsiung City government has been creating and sharing many infographics across its social media platforms, sometimes in multiple languages and with "cute" cartoon characters representing Mayor Han Kuo-yu. By April 18, 2020, Kaohsiung had 41 cases, out of 428 cases total in the country. The number increased to 44 by April 25.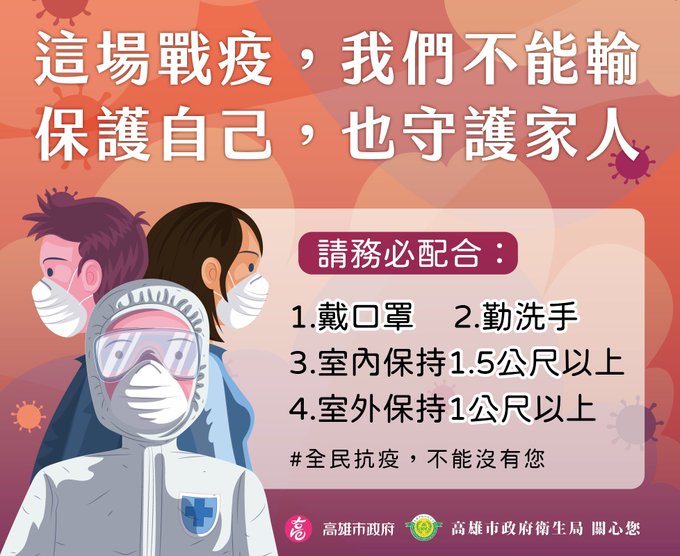 Kyoto
As of May 15, 2020, Kyoto has 358 confirmed cases and 13 deaths, out of Japan 16,253 confirmed cases, of which 10,809 have recovered, and 729 deaths.
On April 9, ahead of the government's declaration of a state of emergency, the governor of Kyoto prefecture and the mayor of Kyoto city asked to be included in the state of emergency, and warned tourists to avoid the city's tourist attractions. On May 13, the government considered lifting the state of emergency for Kyoto prefecture.
Melbourne
As of May 7, 2020, the number of COVID-19 cases in metropolitan Melbourne was 1,196, with a total of 1,454 in the state of Victoria. The city's first reported case, on January 25, was a traveller from Wuhan, China.
The state government of Victoria has led the pandemic response, placing restrictions on social gatherings at the early stages of the pandemic. A significant development came on March 13, the morning of the Australian Grand Prix weekend in Melbourne, when Dan Andrews, the Premier of Victoria, announced that if the event were to go ahead, there would be "no fans." The event was cancelled hours thereafter. In addition, the state government has managed several relief packages delivered to Victorian residents, including AUD$500 million in payroll tax refunds for small businesses and AUD$500 million in rent relief.
Nanjing
Nanjing confirmed its first case of COVID-19 on January 23, 2020, the same day that the central government placed Wuhan under lockdown. On February 5, central authorities extended the lockdown to Nanjing, imposing travel restrictions and shuttering non-essential businesses. At that time Nanjing had 52 confirmed cases. Nanjing began lifting lockdown restrictions on March 23, just over a month after it reported its last confirmed case of local transmission on February 18.
The Nanjing municipal government, which was responsible for implementing the lockdown, set up an "Epidemic Prevention and Control Service Area" on their official website to announce important new policies, provide guidance on prevention for individuals and workplaces, and communicate information about healthcare resources. In the screenshot below, taken May 11, 2020, interactive maps show the locations of fever clinics (left) and pharmacies that accept medical insurance (right).
The webpage also provides the latest national, provincial, and municipal COVID-19 statistics. The screenshot below shows that, as of May 11, the central government has officially reported 84,451 confirmed cases, 3 suspected cases, 4,644 deaths, and 79,566 patients cured. Jiangsu province has reported 631 cases, all of whom recovered. The provincial statistics also stated that confirmed cases had 13,637 close contacts, all of whom have been released from observation. As for Nanjing (left), it has reported a total of 93 confirmed cases (6 cases were transmitted from outside the municipality after lockdown restrictions were eased), all of whom recovered.
However, most residents received official updates through WeChat, by subscribing to the Nanjing municipal government's account ("important announcements" on the website typically had less than 500 page views, whereas WeChat announcements usually had over 100,000. Nanjing's population is 8.8 million). The WeChat account sends multiple daily updates with the most recent news. In the screenshot below, taken May 11, the Nanjing government sent an update on provincial COVID-19 statistics from the Jiangsu Commission of Health (left) and an announcement that first- and second-grade elementary students will return to school on May 18.
Osaka
On March 31, Al Jazeera reported that Japan had enacted a travel ban on foreign nationals from the U.S., China, South Korea, and most of Europe. Additionally the decision was made that Prime Minister Abe will no longer be attending meetings with his second in command Taro Aso in the hopes of protecting the integrity of the chain of command from the coronavirus.
On April 10, the Washington Post reported that the Japanese government would be issuing a lockdown of seven prefectures including Osaka.
As of April 21, Osaka Prefecture had called on all education facilities and universities in the prefecture to close from April 14 through to May 6, and Osaka University is only allowing essential personal and experiments to continue. It has also issued new guidelines for job hunting.
On April 21, Osaka Prefecture started using the online platform LINE to offer health monitoring and general coronavirus information services.
As of May 15, 2020, Osaka had the second highest number of infections in Japan at 1,770 infections and had the third highest number of deaths at 66 deaths.
Taipei
Taipei Mayor Ko Wen-Je and staff are pictured walking to the Taipei City Council to discuss specific actions as part of the emergency response to COVID-19, along with other municipal issues. Ko is pictured in the middle wearing a blue windbreaker.
Tehran
Iran has been the worst hit country in the Middle East, with 5,209 reported dead and 83,505 infected as of April 20, but on April 18, the daily death toll dropped to its lowest figure since March 12. That said, a parliamentary report suggested the national death toll might be nearly double what was announced by the Health Ministry with infections 8 to 10 times higher than reported. Reporting is coming almost entirely through state-run media. President Hassan Rouhani has gradually eased restrictions in Tehran with high-risk businesses remaining closed until further notice and health inspectors visiting reopened shops randomly to ensure compliance with personal protective ware and social distancing regulations. The city's economy, has been shaken by the pandemic, having already struggled immensely since United States-backed sanctions were reimposed in 2018.
Iranian authorities have largely sought to blame US-backed sanctions for their difficulties in overcoming the outbreak and have urged other states and the UN to press the US on lifting the sanctions.
Tokyo
According to data updated on May 11, 2020, there are 4,810 confirmed cases of COVID-19 in Tokyo, with a total of 155 deaths caused by the virus within the city limits. This makes Tokyo by far the most severely afflicted city in Japan, with the next most virus-heavy city, Osaka, at only 1,716 cases and 53 deaths.
The nation overall has reported 15,968 cases of coronavirus appear in the country (of course, this number does not include individuals who have not been tested), with 8,531 having recovered and 657 having passed away thus far. After the total number of Coronavirus cases crossed the 1000-person mark on March 20th and the Tokyo 2020 Olympic Games were postponed on March 24th, Japan experienced a 13% growth in cases on March 28th, constituting the nation's highest growth rate since mid-February. By April 18, only about three weeks later, the number of cases had already grown to surpass 10,000, indicating a startling, exponential rate of growth.
While this rate seems to have slowed entering May, it is possible that there are still a significant number of cases that have gone untested within Japan and thus remain unaccounted for. In response to strong criticism from a variety of authorities both within and outside Japan, the Japanese government finally released its Coronavirus testing data to the public on May 9.
Vienna
As of May 8, 2020, Vienna has 531 active cases of coronavirus within the city. 1,992 inhabitants contracted coronavirus and recovered, while 139 of those infected with the virus passed away. Nationally, the peak of new infections occurred on March 26, with 1,059 new cases. Since then, strong government measures have resulted in a steady decrease of new infections. As a result, by May 7, the country was reporting only 32 new infections. Restrictions in Vienna included: closing all restaurants, bars, and cafes; prohibiting religious services; requiring masks on public transit or in public buildings; cancellation of major public events; and the closure of cultural sights such as operas, museums, and theaters. Because of the significant decline in new infections, the city will be allowing restaurants, bars, and cafes to open on May 15 with restrictions on the number of adults per table and with requirements that servers wear masks. Religious events and services will also be allowed once again starting on May 15. All planned major events still remain cancelled until August 31, 2020.